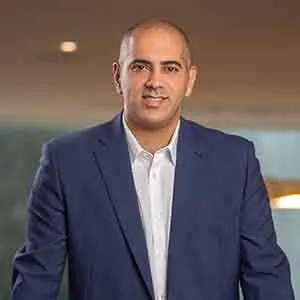 Mohamed Abou Shousha, MD, FRCS, PhD, Founder, President, CEO and Chairman of the Board.
Such startling facts are providing the entire medical fraternity with its much-needed impetus for a resonant call to action. The recent streak of disruptive innovation in the technology underpinning the early detection and treatment of eye diseases is proving immensely significant for preventing vision loss and promoting better living quality.
At the helm of this medical innovation is Heru.
The company is moving the needle of eye care by combining AI with wearable alternatives, in turn, revolutionizing the current vision diagnosis landscape that is accustomed to bulky, immobile medical-grade furniture and eye screening equipment. Fueled by innovation, the company is carving a path for smart, portable vision diagnostics to improve the quality of life for millions of patients.
In an interview with the editorial team of MD Tech Review, Mohamed Abou Shousha, Founder, President, CEO, and Chairman of the Board, Heru, discusses at length how its AI platform improves overall ophthalmic diagnostics. John Trefethen, the company's Chief Marketing Officer also joins the discussion to explain how Heru is committed to enabling vision tests and eye health evaluations at the point of care.
Could you provide a brief overview of your company?
Heru is a spinoff of the University of Miami's top-ranked Bascom Palmer Eye Institute. Our team has developed AI-based eye care technology after a decade-long process of clinical and scientific research, innovation, and clinical validation. Heru became the exclusive licensee of the technology and eventually put together a team to further improve on the core technology. Our mission is to deliver autonomous, personalized, and accessible technology that gamifies the exam experience, optimizes disease detection, and improves care delivery for everyone. Our first available product—a visual field test driven by AI algorithms—is already FDA-approved. Now, we are developing a more robust AI-powered vision diagnostics and augmentation platform to provide real-time diagnoses and personalized vision correction using commercially available wearable devices.
What are some of the major challenges that Heru is addressing through its offering?
The doctor-to-patient ratio is unstable, and the number of patients is exorbitantly greater than that of clinicians. Whether the clinicians 'rush through' or spend the optimal amount of time with each patient, it adversely affects the care continuum. In addition, legacy devices—weighing hundreds of pounds that are being used in clinics today only add to the inefficiencies and cost.
These factors, collectively, become a major barrier for patients seeking timely diagnostics or medical care. With the clinicians overburdened, scheduling an appointment is no easy task. Even patients with no discernable symptoms often hesitate to get the care they need. We are here to challenge this status quo and are committed to solving the limited access paradigm in the eye care industry today.
Our solutions are streamlining diagnostics by bridging the gap between the medical devices and the clinician ecosystem.
John Trefethen, Chief Marketing Officer
Most importantly, we are slashing the capital equipment costs by 4,000 percent by eliminating the need for heavy medical-grade furniture and extra exam rooms. Our technology is essentially free of cost as we only charge fees to use the technology in collaboration with billable exams, essentially supporting greater access to care through greater access to technology.
Heru blends AI with commercially available AR wearable devices to revolutionize the current vision diagnosis landscape that is replete with bulky, immobile medical-grade furniture and eye screening equipment
Once deployed in the physicians' environment. We continuously refresh the technology as it advances, without any additional fees.
Our offerings are designed to ensure it's easy to use for clinicians, eliminating the need for additional training, which is beneficial especially as there is a massive demand for skilled practitioners and technicians today. We also have a strong focus on scalability by constantly looking to expand the point of care into wellness centers, pharmacies, general practitioners, and homecare in order to deliver patients to the ideal Eye care physician.
All that said, none of it matters if our technology does not enhance the patient experience through personalized care. Heru is utilizing smart insights to solve diagnostics challenges faster. At the same time, we are using AR to improve patient compliance, retention, and satisfaction. Up until today, if a patient lost sight in parts of their visual field, it would be considered incurable. However, with our customized vision augmentation, we can essentially restore sight by augmenting the lost vision in the other areas of the visual field where the patient can see – and that's a huge deal!
Could you shed light on how Heru is overcoming the afflictions of the pandemic?
The COVID-19 pandemic has created a major gap in care for glaucomatous patients. Bowl perimeters used in visual field testing essentially have turned into petri-dishes of virus contaminants as their sensitive surfaces are almost impossible to sanitize after each use. Our technology is easier to disinfect and much safer. As a result, we have seen a 10X increase in the adoption of Heru devices since the beginning of the pandemic.
Could you cite a customer success story?
The University of Miami's eye institute has five dedicated exam rooms where they were using traditional and cumbersome devices, which are still considered the gold standard of visual field testing. Although they have the budget to purchase more devices, limited space was their primary constraint. Because of this, their care delivery process was moving slowly, and patients had to wait longer and longer for care. The Institute found it extremely challenging to provide an ideal standard of care, but with our technology, we were able to step in immediately and help the Institute provide patient care through a more non-traditional, but fully compliant and comfortable exam experience. Because our technology does not require a controlled dark environment and is portable, clinicians could use them outside of the exam rooms—even in waiting rooms, cars, or the parking lot.
Our platform changed the way the diagnostic tests are perceived by patients as well. Instead of a counterintuitive diagnostic test, we enable a more gamified and engaging experience.
What, according to you, steers you ahead in the market?
Our leadership team and medical and scientific advisory board makes Heru more than just a company—it makes us a brand of choice for physicians and patients alike. We are a group of individuals with a like-minded goal in solving the limited access challenge to eye care worldwide. Heru is made up of innovators from prestigious medical institutions and revolutionary retail optometry companies globally. The intellectual property and patents from the Bascom Palmer team further strengthen our credibility to offer the best solutions.
What does the future look like for Heru?
Simply put, to expand and democratize healthcare, taking vision care from highly specialized clinics and wellness exam centers to the general population. We recently closed our Series A funding round, which will help accelerate our ability to advance our eye care diagnostic and vision correction technology platform.
Above all, as a software-first company, we can operate quickly and release software that utilizes off-the-shelf AR devices. Since we are hardware agnostic, we're always ready to embrace the rapid innovation of the other companies that are experts in developing consumer-grade technologies. Through our strategic partnerships, we are gaining more traction to create and deliver diagnostic.